The biennial contemporary art exhibit from around the world known as Prospect New Orleans, began its second showing as Prospect.2 on 10/22. The talent of 27 creative minds,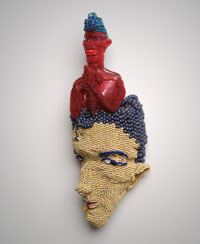 representing 9 countries and 4 continents are showcased in 12+ venues throughout the Big Easy. Prospect.2 will be on display and open for visitors booking a room at any New Orleans Bed and Breakfast through January 29, 2012.
This year's exhibit brings together current art from all over the world to assist in revitalizing our city by bringing this premier visual arts exhibit into our midst.  City revitalization is exactly the reason this exhibit was created.  Based on similar projects in Venice Brazil, and other locations, the hope is that our visual arts infrastructure will be both recognized and boosted.
The biennial remains focused on building a contemporary art tourism infrastructure utilizing a  signature event that brings together local art creation and entrepreneurial activity, while attracting tens of thousands of art lovers to New Orleans every-other-year.
Dan Cameron, creator of Prospect New Orleans, is an internationally recognized art museum curator and exhibition organizer. Some of his past credits include the biennials of Istanbul, Turkey and Taipei, Taiwan.
27 artists from the United States, and countries throughout the world will be featured, including names like Nick Cave (from the USA), Sophie Calle (from France), Francesco Vezzoli (from Italy), and many more.  Local artists will present projects inspired by local color and life: things that can only be experience here in NOLA!
Visit the Prospect New Orleans website for a complete list of artists and sites showing works of this exhibit. To book a room in the city, contact Joe!