Christmas is over, New Years is almost upon us.  What's next?  Do you really have to ask?  Yes, Mardi Gras in NOLA is right around the corner!  Of course, this is the most well-known of all New Orleans events, and is a perfect reason to plan a New Orleans vacation.  And there's no better time than now to reserve your room in our New Orleans bed and breakfast for the occasion!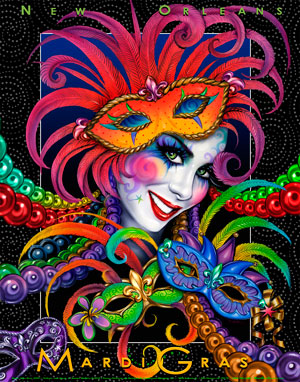 Mardi Gras, or "Fat Tuesday," is actually a French Catholic tradition in relation to Lent.  It is the practice of eating richer, fattier foods in excess on a final night before Lenten season fasting begins on Ash Wednesday in remembrance of the Holy Week before Easter.  Mardi Gras is slowly spreading throughout the United States as a reason to celebrate, but Mardi Gras actually arrived in Louisiana with the Le Moyne brothers in 1699.  Sent by King Louis XIV to defend France's claim on the area of Alabama, Mississippi, and Louisiana in America, the brothers traveled up the Mississippi River and made camp about 60 miles downriver of where New Orleans is today.  The day they made camp happened to be France's Mardi Gras day.  So you could say that the New Orleans area had a hand in starting Mardi Gras, even though the actual celebration wasn't established until Mobile was settled in 1702.
Mardi Gras has since become synonymous with New Orleans itself.  And festivities begin long before Lent.  The Mardi Gras parade season begins on Saturday, February 4, 2012, and continues to Mardi Gras day itself on Tuesday, February 21, 2012.  Celebrations can range from simply jovial to downright risque, and experiencing them is like nothing you've ever done before!
Our inn is the perfect place to be during Mardi Gras!  Believe it or not, there are more than 25 different parades marking the occasion, and all of them pass directly in front of our font door, making our Uptown inn the perfect place to stay while safely and conveniently enjoying event festivities!  If you do feel the need to celebrate at "ground zero," we are just minutes away from the French Quarter via the streetcars which stop just outside the house.
Come down for the Mardi Gras events themselves, or better yet, plan a longer visit and combine your February, 2012 New Orleans vacation with one of our great celebration packages and kill two birds with one stone.  New Orleans is the perfect place for you to get away from the norm, celebrate the occasion, and enjoy the unique!
We still have a few choice rooms available so call now to reserve your spot.  Its a five-night minimum stay during Mardi Gras, but the visit is the experience of a lifetime!